Magnetic Materials

There are a wide range of magnetic materials available - each of which has their own specific strengths and weaknesses. A brief summary is given below with suggested areas of use. We have also detailed our range of 'stock' sizes to allow easy selection for prototype and design stages or small orders. However, most materials can be quickly machined to a bespoke size or pressed on larger orders. Please call to discuss.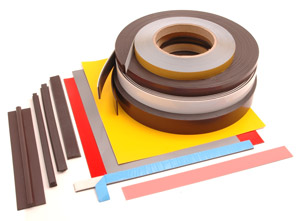 Flexible Ferrite

A mixture of ferrite magnetic ore and rubber extrusion granulate.
Combines to give a brown flexible magnetic tape or sheet material.
Can also be extruded into various profiles.
Ideal for low cost applications but has limited performance.
Can be supplied with self adhesive backing for rapid application.
Can be supplied with vinyl facing (sheet only) for screen printing.
Higher energy grades available.
Tape is ideal for back of light fridge magnets / toys.
Extrusions ideal for shower / fridge door closures.
Sheet can be printed for fridge magnets / magnetic business cards.
Also ideal for moveable or temporary shelf lables, point of sale material, information board items and car signs
See list of stock items >>>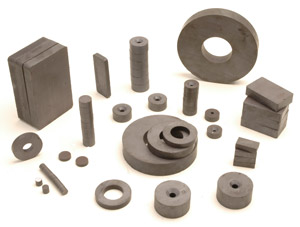 Ceramic (Hard) Ferrite

Available in two grades:
Grade 1: Isotropic (Low Energy) - Consisting of magnetic ore and a bonding agent 'pressed' together. Mainly used to produce the 'classic' round fridge magnet plus a few other light hold applications.
Grade 2: Anisotropic (High Energy) - Magnetic ore 'fused' together under heat and pressure to yield ceramic discs, blocks, and rings.
Available in a wide range of stock sizes and can also be cut to requirement.
Ideal medium performance material where available space is not critical.
Generally unaffected by aggressive environments and has a maximum operating temperature of 250°C.
Can be made into assemblies for holding clamps / pot magnets.
Separator assemblies for metal removal.
Included in moveable picture hook and coat hanger magnets.
Incorporated into magnetic therapy pads and mattresses.
Loud Speaker ring magnets.
See list of stock items >>>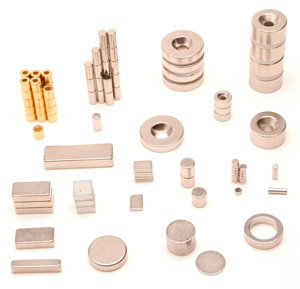 Rare Earth (Neodymium Iron Boron)

Elements combined under a heat and pressure (sintering) process to yield magnets of incredible performance.
Material offers outstanding levels of energy.
However, material has severe limitations regarding aggressive environments and working temperatures.
Normally supplied in a Silver (Zinc or Nickel coated) finish - Despite this magnets will require further protection for use in non-ambient conditions.
Maximum operating temperature 80°C -> 140°C depending material grade.

Allows use of powerful magnets in miniature and model applications. Ideal for:

Small, high performance holding and clamping devices.
Separator assemblies requiring maximum retrieval of small particles.
Extensively used within the Magnet Therapy industry for wrist straps etc.
Contemporary Point-of-sale display magnets.
Heavy duty holding devices.
See list of stock items >>>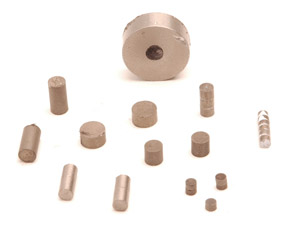 Rare Earth (Samarium Cobalt)

Elements combined using a sintering process.
Material offers approximately 75% of the performance of neodymium.
However, material is virtually inert - making it ideal for operations in hostile environments and also has a much better temperature tolerance (250°C) compared to Neodymium.
Major drawback is cost (approximately 5 x that of neodymium) due to high cost of raw materials, particularly cobalt.

Inert nature and temperature tolerance make material ideal for:

High performance magnets in hot and/or hostile environments.
Often used on ships and in salt water conditions.
Very good in manufacturing plant where heat is involved.
Particularly useful for holding components in injection moulding and hot foam moulding tools.
See list of stock items >>>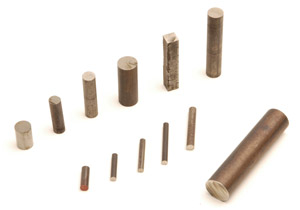 Alcomax (Alnico)

Aluminium Nickel Cobalt Alloy.
Material was THE most common material up until the 1980's but now superceded by the ferrite and neodymium materials.
However, it still has one major use - due to its 'far reaching' magnetic field - namely the activation of reed and hall effect switches.